The Slider Lures "not-finesse" Twitch Doctor takes the company's product line to hard plastic.

Slider is known as the creator of finesse fishing 50 years ago developed by Charlie Brewer, Sr. The Slider Heads and lures for finesse fishing are not the only popular products they make. Slider's huge line of products for crappie fishing are big sellers.
The Twitch Doctor is, as the name implies, a twitch, jerkbait. The lure measures approximately 5.5 long and weighs 1/2 oz. The Twitch Doctor is a floater with rattles and includes a fish attention-getting featured tail hook paired with another body treble hook.
The lure moves back and forth on retrieve and targets bass as well as other larger fish species.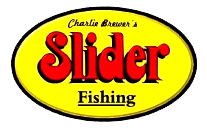 The Twitch Doctor comes in five attention-getting colors: Black back, blue body and silver bottom (TDBB); Ghost glow in dark color (TDG); Silver with red fire head (TDHR); and Jade with orange Belly (TDJ). See all of the colors of the Twitch Doctor on the Slider Fishing website.
The Twitch Doctor is only available on the Slider Fishing website and the Slider Fishing Store. The lure is priced at an unbelievable price of $6.00 each. This is not a clearance sale but the supply of one or more of the colors could be depleted quickly.
Slider Fishing is located in Lawrenceburg, TN at Charlie Brewer's Slider Co. at 2326 Springer Road. Phone 931.762.4700.