Priority Registration Opens August 1
The Alabama Bass Trail (ABT) is excited to announce dates and locations of the 2022 tournament series which includes a payout reaching over $580,000.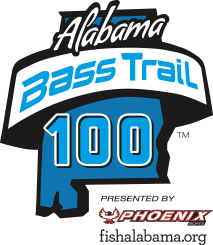 Now in its ninth season, the team-style tournament series is held on eleven different lakes of the Alabama Bass Trail beginning February 19, 2022, with the championship tournament to be held on October 21-22, 2022. Anglers in the no entry fee championship will be competing for over $100,000 in cash, including a $50,000 first place prize and top bragging rights for the year.
"Announcing the schedule for the ninth season of the Alabama Bass Trail Tournament Series seems almost surreal," said ABT Program Director Kay Donaldson. "Each year, we begin working with the host cities in February and it is always an interesting puzzle to put together. There are so many considerations that go into assembling a schedule that offers a little something different each year but is still attractive to a large variety of anglers. We hope the 2022 Tournament Series is everything an angler expects from a fishing tournament – a flawlessly run event with big fish and big payouts."
North Division:
February 19, 2022 – Neely Henry Lake / Hosted by the City of Gadsden and Greater Gadsden Area Tourism
March 12, 2022 – Lewis Smith Lake / Hosted by Chamber of Commerce of Walker County
April 23, 2022 – Weiss Lake / Hosted by the Town of Leesburg
May 21, 2022 – Wheeler Lake / Hosted by Decatur Morgan County Tourism
June 11, 2022 – Lake Guntersville / Hosted by the Mountain Lakes Chamber of Commerce
South Division:
February 26, 2022 – Logan Martin Lake / Hosted by the City of Lincoln, Ala.
March 19, 2022 – Lake Martin / Hosted by the Lake Martin Tourism Association
April 9, 2022 – Alabama River / Hosted by the City of Prattville Parks and Recreation
May 14, 2022 – Lay Lake / Hosted by the Shelby County Commission
June 18, 2022 – Lake Eufaula / Hosted by the Eufaula-Barbour County Chamber of Commerce
Hosted by the city of Wetumpka, the championship tournament will be held October 21-22, 2022, on Lake Jordan.
Sanctioned by BASS (Bass Anglers Sportsman Society), the ABT Tournament Series contains two divisions, North and South, and each division is made up of five tournaments on five different lakes. The maximum number of boats for each tournament is 225. Teams must fish in all five tournaments in their respective division; no single entries will be allowed.
The no-entry fee championship event will include up to 185 boats. The 185 boats are comprised of the 10 regular season winners, top 75 teams in points from both divisions that fished all five events in their respective divisions, along with the top 15 student teams, top five college teams and the top five couples teams collectively from both divisions that fished all five events in their respective division.
Each regular season tournament features a $10,000 guaranteed first place prize and pays 40 places totaling over $47,000. The no-entry fee championship will feature a $100,000 payout with a first place prize of $50,000. There is also a $5,000 bonus cash prize for Angler of the Year and $2,500 for runner-up Angler of the Year. According to Donaldson, over $580,000 in cash and prizes will be awarded when the ABT Tournament Series wraps up its season in 2022.
2022 Payout Schedule:
First place $10,000
Second place $5,000
Third place $4,000
Fourth place $3,000
Fifth place $2,000
Sixth place $1,500
Seventh place $1,100
Eighth place $1,100
Ninth place $1,100
Tenth place $1,100
11th – 20th $750 each
21st – 40th $500 each
2022 Championship Payout:
First place $50,000
Second place $10,000
Third place $5,000
Fourth place $4,000
Fifth place $3,000
Sixth place $2,500
Seventh place $2,200
Eighth place $2,000
Ninth place $1,800
Tenth place $1,500
11th-15th $1,200 each
16th-25th $1,100 each
Big Fish $500 daily
Anglers who fished all five events in their respective divisions in 2021 will be given a priority entry period beginning August 1, 2021, at 6 a.m. online at www.alabamabasstrail.org. Registration opens for new teams August 15 at 6 a.m. The entry fee is $1,300 per team, which includes registration for all five tournaments in the respective division. Each team may choose to pay a $500 nonrefundable deposit to hold the team's spot. The balance of $800 must be paid by January 15, 2022.
"Year after year, registration for the ABT tournament series sells out in record time and we look forward to shattering the record again with the 2022 season," stated Donaldson. "Registration for the 2021 tournament series opened to the public August 15, 2020, and both divisions sold out in under 25 minutes."
ABT Tournament sponsors include Phoenix Bass Boats; Bill Penney Automotive; Alabama Tourism Department; America's First Federal Credit Union; Academy Sports & Outdoors; Garmin; T-H Marine Supplies, Inc.; Alabama Power Company; Buck N' Bass; Black Rifle Coffee Company; Buffalo Rock, Inc.; Jack's; Wedowee Marine; Anheuser-Busch; Lews Fishing; Strike King; FishNeelyHenry.com; Power-Pole; Big Bite Baits; YETI; and Berkley. Angler's Channel will film and produce the Alabama Bass Trail television series for Bally Sports Southeast and Southern Stream Live will continue the live-streaming and video production services.
For more information, call Donaldson at 855.934.7425 or visit www.alabamabasstrail.org.