EGO's new Soft Side Bait Cooler/Bucket is a lifesaver for bait and an insurance policy for your investment.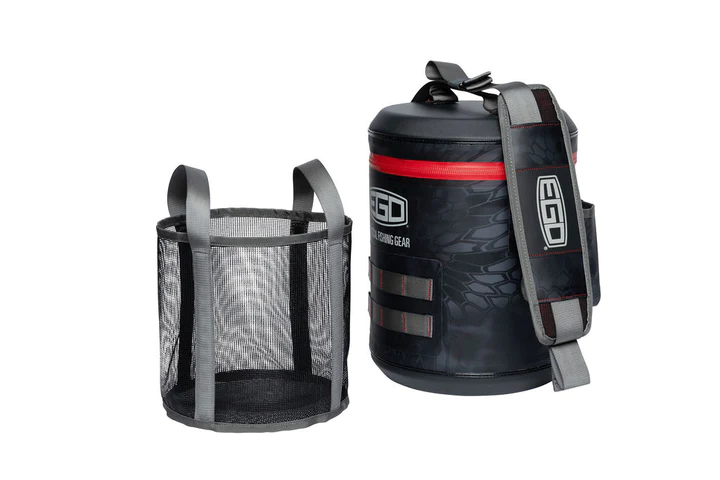 Nothing is safe from inflation, live bait included. Just look at the changing chalk numbers on the bait shop blackboard. Or the crossed-off digits with the new inflationary price in red marker. It's not their fault, though. It's systemic…and an economic malaise story for another time. But we can agree that bait prices are up. We can also agree that fresh live bait is oftentimes the only path to fishing success. To that, EGO Fishing puts its pledge to protect your capital expenditure in the form of its exceptional and tactical Soft Side Bait Cooler/Bucket. (Kryptek PONTUS and Kryptek TYPHON)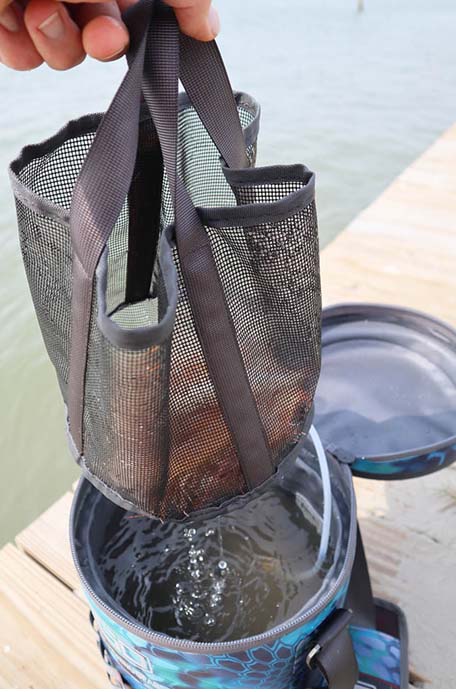 Heat kills. Take a finger temperature test of a bucket of dead minnows against the surrounding water temperature. Pretty certain the upside-down floaters are in warmer water, which means there's been oxygen deprivation.
EGO's smart Soft Side Bait Cooler/Bucket is founded on the principle of maintaining water temperature, which subsequently cuts down on oxygen loss. Internally, the cylindrical wall of the Soft Side Bait Cooler/Bucket offers generous insulation covered by a soft but durable TPU fabric. The bilayer membrane is waterproof and has a high tear strength as well.
The cylindrical design isn't by accident, either. Bait stays more active and damage-free when it's not banging off four walls or crammed in a corner. This also makes bait easier to retrieve, as they evenly disperse throughout the container. But, quite frankly, accessing bait is made even easier because of the Soft Side Bait Cooler/Bucket's shaped mesh bag that slides in and out of the container. Pull it out and the water drains through the coated mesh to expose pure bait. No more chasing minnows and shrimp around in a traditional bait box. And there's no need for the forever-missing dipnet, either.
The bait needs oxygenation, too, despite the design's awesomeness. So, EGO welded in the perfect external pouch to secure a portable aerator. Fits about every brand and model, from your power-sucking double D's to more contemporary lithium styles. And located just above the pouch you'll appreciate the versatile cutout for inserting various diameter hoses. Just run the hose through, attach the air stone, and slide the bag back in. You're up and bubbling.
The same TPU material makes up the exterior, too, but slicked up with Kryptek camo patterns that impart that badass fishing look. The Soft Side Bait Cooler/Bucket is available in Kryptek TYPHON and PONTUS. The exterior also sports a MOLLE (Modular Lightweight Load-Carrying Equipment) strip for hanging tools.
The container's hard, structured lid zips shut with an advanced zipper that seals the contents, and is easily opened and closed with an oversized and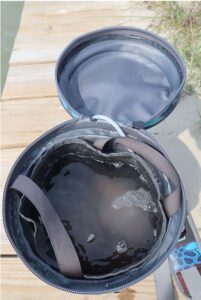 rugged zipper pull. There's a handle, too, for a quick grab-and-go. The bottom is constructed of the same durable and waterproof material, ensuring that the EGO's Soft Side Cooler/Bucket will be at your side for years.
Lastly, you'll truly appreciate the robust adjustable and removable shoulder sling, which features a sliding pad. Free up your hands for carrying rods and other gear. And take solace in the fact that bait water won't be sloshing on your clothes, either, thanks to the water-tight lid zipper.
Dare we say the EGO Soft Side Cooler/Bucket will be the best mobile bait manager you'll ever use? Yes.
EGO Soft Side Cooler/Bait Bucket FEATURES:
• High-performance TPU performance fabric
• Holds water temps constant for up to 12 hrs.
• Built-in aerator pouch
• Provides a controlled environment for bait fish
• Circular design to keep bait fish healthy
• Internal sleeve to easily lift bait fish
• Comfortable carry handle
• Lightweight and easy to carry
• Shoulder strap included
• Weights 2.6 lbs.
• Measures: 10" L x 10" W x 13.5" H
Aerator not included
MSRP $99.99