There's nothing like entertaining a friend from out-of-town as a fishing trip on one of Northwest Alabama's popular- lakes Wheeler, Wilson and Pickwick. For veteran bass chaser Don Gowen, Decatur, AL, his pick for the day was Wilson Lake for a little below-the-dam angling.
His business associate and friend Mark Duncan was in town for a business conference with a little extra time on his hands. Gowen knew right away how to occupy Duncan's time.
The two got together and formulated their fishing strategy at the Safety Harbor ramp below Wheeler Dam on September 25. Duncan had made a trip to a Florence, AL sporting goods store the night before and loaded-up on Rooster Tail lures. That being the case, the two decided Rooster Tails it would be.
"Fishing with a friend is great-fish or no fish."
Once thru the "chute" out of Safety Harbor the swift current from Wheeler Dam's turbines became apparent. This current provides some good opportunities for some great fishing action.
Gowen navigated around one rock pile below a power line tower (which does seem to move from time to time as two damaged props will attest to) and snuggled up against the dam. Many fishermen position their boat in this area where the current isn't flowing but provides an excellent vantage point for casting lures into the current and along the edges of the swift water.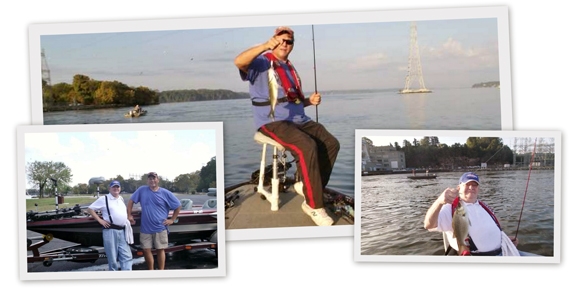 The Rooster Tails came out and the hunt was on. Duncan struck first, and second, and third while the ole' angler Gowen was wearing the shine off the bait's blade.
Both guys were eventually boating fish. Not the monster smallmouth they were looking for but plenty of action. Gowen said they caught small stripe, one to two pounds, until they just got plain tired of catching them. Anyone who has hooked even a small stripe in the current below Wheeler Dam will tell you the fight will bow your rod. Mixed in with the stripes were a few smallmouth less than 15 inches. Gowen also noted another boat fishing nearby was straight-lining shad minnows and catching some good smallies. Live bait will usually trump over an artificial every time.
With rough thumbs from the active stripe, the pair decided to make a short run downstream to the mouth of Bluewater Creek. The mouth of the creek features the walls of the old canal system and locks built years before Wheeler and Wilson Dams. The two walls and weedbeds just inside the entrance produced nothing as did the opposite side of the creek. Fishless, the guys opted to try below Wheeler Dam again. Jerking stripe out of the water was better than catching nothing at all.
No boats remained fishing the current by the time Gowen and Duncan arrived back below the dam. A trip down the rock infested bank adjacent to Safety Harbor also left the team fishless.
The time was 11:00 AM and the heat of the sun was making fishing pretty uncomfortable. This made the decision to call it a day pretty easy. However, as "Bubba Sr." Gowen says, "Fishing with a friend is great-fish or no fish."