A multitude of individual volunteers are responsible for making Tim Horton's Fishing for Kids a resounding success for eighteen consecutive years. These individuals include bass club members, wives, parents, teachers, fishermen of every stripe as well as sponsors.These volunteers put forth their very best effort to make an impact, if only for one day, on the lives of those less fortunate than themselves.
Their smiles, words of encouragement and love brings sunshine into the lives of the individuals that participate in Tim Horton's Fishing for Kids every year.
They expose the kids to the sport of fishing and provide a venue for them to enjoy the great outdoors where they develop skills and have
enjoyment that would probably otherwise be denied them. Complete dedication to this opportunity takes a very special individual that participates in and supports projects such as Tim Horton's Fishing for Kids, year after year, good days and bad.
One such individual was recognized by Horton and his entire organization this year with a Lifetime Achievement Award for unselfish volunteer services to Tim Horton's Fishing for Kids and for his dedication to providing youth the opportunity to enjoy fishing and the great outdoors just as he had been fortunate to do his entire life.
Blake Gowen of Decatur, Alabama was the recipient of this award.
The recipient had a strong desire to share the fishing knowledge and special skills with youngsters that were growing up – he had a son to instill with the love of fishing.
Gowen's first exposure to Horton's program was as an assistant in his dad's or Mike Johnson's boat. During this time he developed a very special relationship with a couple of the participants, Mary and Mark. After a couple of events, Don and Mike were no longer acceptable as a boat captain for Mary and Mark. Their boat captain was going to be Blake Gowen and son Mitchell assisting. And that's the way it has been for the last few years.
Blake said in acceptance of the Lifetime Achievement Award that he was humbled because he thoroughly enjoyed the interaction and association with Tim's kids. He said he was also grateful for the opportunity to give something back to the underprivileged and special needs kids. "I love to see the expressions and excitement when they catch a fish-any fish and show how much they enjoy fishing."
He added that the acceptance of the award was,"on behalf of all the volunteers who gave of their time and effort to help Tim make this event one of the top in the state."
Gowen has shown his desire to help kids learn and enjoy fishing in more than just Fishing For Kids.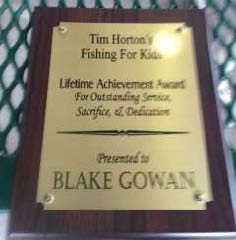 He developed strong Junior Bassmaster clubs which scheduled competitive tournaments, held Casting Kids Contests, developed seminars for youth angler skills and entered his youth clubs in regional and state championships. Many of those early junior bassmasters went on to participate in collegiate club tournaments and/or members of adult bass clubs.
In 2010, Blake and his father, Don Gowen, joined a group of dedicated individuals and organized the first high school bass fishing
organization in the State of Alabama – the Alabama Student Angler Bass Fishing Association (ASABFA) – the largest student
angler organization in the State.
Blake was the first President of ASABFA and provided focused leadership for the organization's growth with the Alabama Legislature recognizing ASABFA as the only official student angler bass fishing organization in the state. In addition to President of ASABFA, Blake served as a Director in North Alabama for ASABFA and as the coach of the Decatur Heritage Christian Academy Fishing Eagles. The Fishing Eagles club was the first official Alabama Student Angler Bass Fishing State Champion.
Mr. Gowan has also been involved with other youth fishing organizations and providing his boat, time, and funding
to organizations like the national CAST for KIDS.